CIUDAD ENCANTADA
MEDITATION AND CONTACT MEETING
23rd, 24th and 25th March, 2018
WE INVITE YOU TO MEET WITH US THE NEXT DAYS 23rd, 24th AND 25th MARCH IN THE "NATURAL PARK OF THE SERRANÍA OF CUENCA", SPECIFICALLY IN "CIUDAD ENCANTADA" (CUENCA - SPAIN), ANCIENT AND MAGICAL ENERGY ENCLAVE, TO CONNECT WITH OUR INNER WORLD AND THE STARS.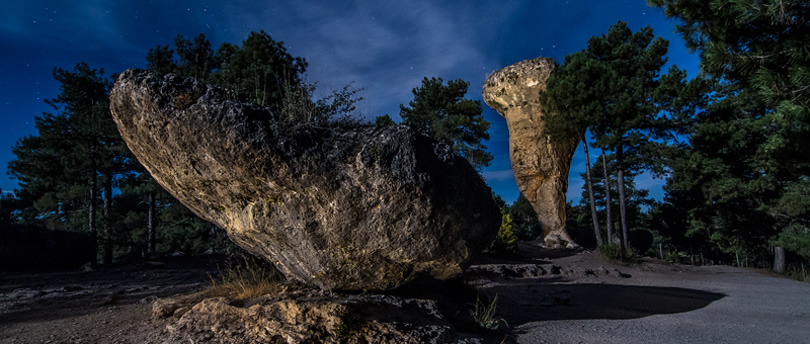 Two years ago, the beings of the stars with whom we maintain contact, we have been told this enclave as a point of work to bring energy to Monte Perdido. As you know, we have been carrying out these energy jobs for a long time, so that from Monte Perdido, the Masters of the White Brotherhood use the energy of these different sites linked to Monte Perdido to radiate Light, Peace and Love on humanity, mainly about Europe and Africa, and in this way, generate the change of consciousness so necessary at this moment in our human history.
During the meeting we will perform the work of relaxation, meditation and projection. We will activate our personal codes and the Ciudad Encantada, together, to wake up to a new reality. We will will with the energy of this beautiful place to continue to grow together as human beings worthy of this beautiful planet.
Do not miss this experience and the opportunity to be part of this process of change.
A heart hug.




DIRECTED AND PRESENTED BY
Diego Cintas and Rosa González
DATES
23rd, 24th and 25th March, 2018
LANGUAGE MEETING
Attention: the language used in this meeting will be Spanish. There are no English translators.
MEETING POINT
Ciudad Encantada
Road CM-2104, Km. 19
Valdecabras (Cuenca)
Spain

URL: www.ciudadencantada.es
ACCOMMODATION
The accommodation will be free.
The address of the meeting recommends staying at the Hostal GC Ciudad Encantada, by the proximity and being the meeting point to go to Ciudad Encantada together.
There are also rural accommodation in the population of Valdecabras (Cuenca), 9 km away. From Ciudad Encantada, very well-conditioned and able to share among several people.
Here are the contact information of both establishments:

Hostal GC Ciudad Encantada
Paraje de la Ciudad Encantada, s/n
Valdecabras (Cuenca)
Telf.: 969 288 194 - 688 990 300
URL: www.hostalciudadencantada.es
Email: info@hostalciudadencantada.es

Apartamentos Rurales Ciudad Encantada
Calle de la Fuente, 11
Valdecabras (Cuenca)
Telf.: 663 915 062
URL: www.casaruralcuenca.com
Email: info@valdecabrasrural.com
SCHEDULE
- Friday, 23 March 18:00 to 21:00 hours
- Saturday 24 March 10:00 to 19:00 hours
- Saturday 24 March 22:00 to 24:00 hours (night departure in the vicinity of Ciudad Encantada)
- Sunday 25 March 10:00 to 14:00 hours

For the proper functioning of the meeting, maximum punctuality is required.
MEETING AGENDA
- Creation of the energy network of light and peace
- Activation of personal energy codes
- Meditation and projection for peace of the planet
- Connection with Monte Perdido Power Center
- Sowing of love crystals
- Telepathic reception of messages
NECESSARY TO BRING
- Folding chair
- Notepad and pen
- Lantern
- Canteen or water bottle
- Warm clothing
- Mountain footwear
ECONOMIC CONTRIBUTION
The financial contribution for the meeting shall be EUR 80 per person (accommodation and food costs not included).
INFORMATION AND INSCRIPTIONS
For more information and / or reservations you can use the following form

SHARE THE CONTENT OF THIS PAGE
Tweet