SIERRA DE GREDOS
"Meditation and Contact Meeting"
22nd, 23rd and 24th July, 2016
THE PAST WEEKEND IN JULY WE MET WITH A GROUP OF COMMITTED FRIENDS IN THE REGIONAL PARK OF THE SIERRA DE GREDOS, IN THE PROVINCE OF ÁVILA (SPAIN), FOR A NEW "MEDITATION AND CONTACT METTING", WHICH THE STARS BEINGS WITH WHOM WE HAVE BEEN IN CONTACT HAD INDICATED US TO PERFORM.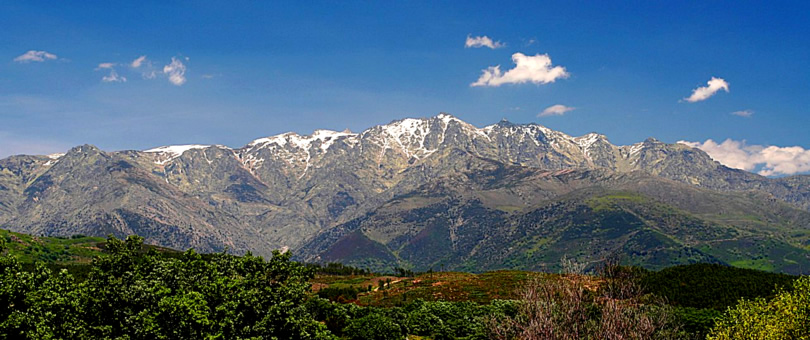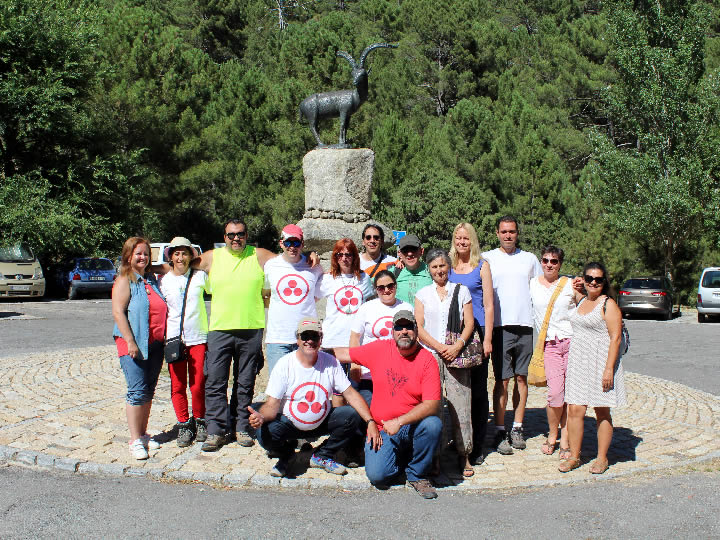 The purpose of the meeting was to activate energetic bonds between this powerful site and Monte Perdido. In doing so, the Masters of the Intraterrestrial White Brotherhood from Monte Perdido could use the energy of this place, Gredos, to send energy, a thought of peace to all Spain and the rest of Europe, as well as Africa and neighbouring regions.
Since in 2014, after a meeting at Monte Perdido, the Masters of the Intraterrestrial White Brotherhood told us about the project of travelling to several sites of the Spanish and European geographical land, we have already anchored energetically Montserrat (Barcelona), Cañón de Río Lobos (Soria) and Torcal de Antequera (Málaga) with Monte Perdido (Huesca).
Sierra de Gredos (Ávila) is the new site joining this network of light that is continuously emitting the energy-feeling of peace for humanity to anchor it within ourselves, in our hearts.
As usual, as a result of our compromise with humankind, with the Star Beings and with the Intraterrestrial White Brotherhood, we undertook several works of radiation to the planet with such a purpose: to create a new world of peace and love.
We also undertook works of activation of personal codes to recover ancient personal information, to reconnect with the sites of power we visit, to activate our DNA code (the supposedly asleep one), and to connect with the energy of Chintamani, as well as the energy of the own Sierra de Gredos.
Along Saturday morning we received several communications that follow.

"Humankind is reaching a turning point. All portals are open; all hope is on you.
From the stars we are helping you to be ready for the time when you choose to be free and accept your responsability as terrestrial humans.
Time and space were constructed by the main architect, the Love from the Cosmic Conscience.
In this material world you can take control of it. You just need order, discipline and discernment.
Be alert at around 23.30 hours."
With LOVE, Ivika.
- - - - - - - - - - - -
"Thank you for coming.
Once again we meet in a single time, the time we share to understand each other.
We are travellers from space, the dimension of time where conscience expresses itself.
There is nothing beyond us, beyond you.
Today you begin to understand that we were always close to you, that you were always us, that nothing escapes time.
Maybe you should ask yourselves what is the reality of the world we inhabit.
You will find the answers like we did one day. Then, we will be along you a new version of humankind.
You have all our support, our commitment, our love to keep growing as human beings.
Without the beginning you created we wouldn't have been able to arrive at today, your future."
With LOVE, Ivika.
(Feel, remember, love)

Some days before the meeting we felt as to include a specific work, a meditation we had not done for years. It consists in travelling to a specific time of "our future" and see what happened in that chosen place, a parameter of a concrete moment.
On Saturday night we went out to the field to close the "voyage to the future" each of the participants had felt during the meditation. Moreover, Rosa had received a communication/invitation for Saturday night, at 23.30 hours.
While we were coming closer to the parking area, we saw on some occasions a very bright light at the top of the hill on the left side from the road. We stopped and looked at it. Later, in the parking area, we talked with the other colleagues: everyone could see that intense light that seemed to hide behind the mountain to reappear a bit later.
At that moment we thought it could be someone with a powerful torch standing at the top of the hill and, since there was total darkness, we decided to stop attending to something we could not know what it was. The light remained there many minutes, appearing and disappearing behind the mountain, like doing signals, to reappear again completely a bit later.
Since there were many people in the parking area, we decided to head ourselves to the inner mountains. As we were looking for a place to stay, we saw a fox, standing still and staring at us. We moved our torches towards the fox but surprisingly he remained there, still, staring at us as we pointed our light to him and came to a couple of meters from where he was. Then, without any hurry, the fox left the place, in tranquility. That's why we decided to stay right there, as if it had been waiting for us for some reason.
We settled in a circle and looked relaxedly at the sky, dark and clear, where we could see occasionally a satellite or a plane.
At some point we saw three lights moving through the sky, almost right on top of us. These three lights moved keeping the same distance between them, with the same speed and brightness. They seemed to form an equilateral triangle. The lights were moving in an orderly disposition.
Rosa asked the time. 23.30 hours. The time when Rosa was told there would be a contact. The whole group saw it and we all together enjoyed those such special moments the Star Beings were offering us. The group had been very well connected with each other along the weekend and They gave us this "gift".
After the contact, part of the group took their chairs and walked around the area. Someone also had another experience, the vision of luminous forms with a human aspect and a physical closeness towards this person, and, although the contact did not take place finally, there was indeed an energetic closeness that our group colleague felt through his body.
In the time we spent there, other things happened as well. We will tell you about them after we find a confirmation. Maybe the appearance of a "being or person" from another dimension? Staring at us? A photograph was taken and currently it is being analyzed.
Next morning we came back to the working area. When arriving at the parking area, the first thing was to check the place where that bright torch seemed to be sending signals last night. Then, at daylight, we saw that the site was almost impossible for someone to be there, maybe only a mountain climber, since the top of the hill was steep and risky to be there walking at night.
We will leave it there as something curious. We all agreed that the light could probably be from the Star Beings and not from someone walking along such a steep mountain at night.
The day went on through meditations and radiations. We embraced Gaia and their inhabitants in the energy of unconditional love, decreeing a new world of PEACE.
Some other communications were received; we share them here.

"Dear brothers and sisters.
We feel happy about the commitment each one of you had acquired with humankind.
Yesterday we could share with you the space in which you find yourselves today.
The presence of your brothers and sisters from the stars was clear. We understand that our support and closeness was beneficial for you.
We are always happy to share the experience of being humans together with you.
We will soon be able to rejoin and live together as long time ago."
Always with you, Antarel.
- - - - - - - - - - - -
"We will contact you again during the following days.
Be alert to our manifestations.
You will hear from ourselves in Spain."
With LOVE, Ivika.

After the wrap-up, we all ate together and each one headed home, to keep working on this project we are all an active part of.
Thank you to all of you who decided to take part in this gathering of peace, for and by humankind.
A hug with love.




SHARE THE CONTENT OF THIS PAGE
Tweet