MONTE PERDIDO
"Meditation and Contact Meeting"
3rd, 4th and 5th March, 2017
"BETWEEN THIS EVENING AND TONIGHT YOU WILL RECEIVE "NEW" MINIUS ADJUSTED TO YOUR ENERGIES, SO THAT THE PERSONAL PROCESSES OF CONTACT WITH OTHER REALITIES ARE BETTER BALANCED."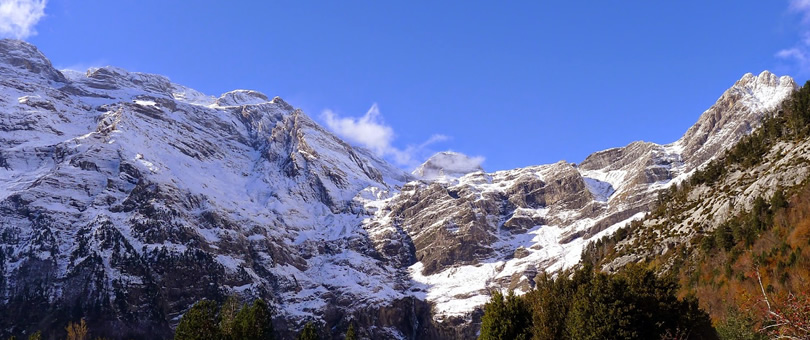 Once more we came back to Monte Perdido, the mountain for contacts, for a new meditation gathering with a small group of friends willing to work their lives in favour of the quietness of the soul and peace in our planet.
The weather predictions for this weekend were not encourageous, since they spoke of snowfalls during the two days. Nonetheless, we dressed with courage and went up until the Pineta Valley, at the feet of Monte Perdido, to fulfill our agreements.
As we drove through the valley towards Monte Perdido, there was more and more snow. It had been snowing for several days. The image of the Pineta Valley, with the background of Monte Perdido all covered in snow, took us to far places.
After getting settled and eat, Rosa received a message that took us by surprise:

"We have been waiting thousands of years for you to come, those whose heart has awakened, with auras clean of impurities.
This weekend is special because the positive energies from Monte Perdido are building a portal between you and the divine.
In preparation for tomorrow, have a light dinner and plenty of water so that your bodies are ready for the important energetic endeavours that will take place.
Vibrate in unison, prepare physically and psychologically to receive Minius.
Don't be afraid. We are with you.
The Great White Brotherhood of Monte Perdido welcomes you."
(Message received by Rosa González)
The afternoon passed by through harmonization and relaxation exercises in preparation for what was to come on Saturday.
Saturday's dawn showed a sky almost totally clear. The weather conditions had changed and the new predictions said that we were to enjoy clear, although cold, skies during Saturday night.
We kept on with the planned exercises of relaxation, singing of mantras and harmonization. Again, another contact took place with the following message:

"Hi beloved, I am Azuel, Regent of Monte Perdido.
Come to the place agreed with clean hearts, since you will feel us very close.
The Star Beings will give you tonight a great gift for your lives."
(Message received by Rosa González)
- - - - - - - - - - - -
"Dear brothers and sisters
Tonight allow yourselves a great gift for your lives. This gift is identified with what you are nowadays, so that you can perceive us and all in all moments.
Tonight you will open a portal so that every human being coming to Monte Perdido will awaken and connect automatically with everything around.
Join in one heart, one strength and much love. The Minius will be given to those who don't have it. Everything will be given at the right moment.
From time immemorial we are here awaiting for those whose heart is pure, those who wish to come back to the origin. Hold the reins of your lives, be patient and everything you wish will come the way you want it."
(Message received by Rosa González)
- - - - - - - - - - - -
"Dear brother
Between this evening and tonight you will receive "new" Minius adjusted to your energies, so that the personal processes of contact with other realities are better balanced.
Since the last gift at Monte Perdido, several adjustments that will benefit your tasks on the Earth have been made.
Do not forget to connect often with this source of energy. Work with the new Minius to come closer to your goals. Soon you will remember along the process which were the paths and vicissitudes you walked to reach this precise instant moment.
Events take inexorably to the fate we all know, even you. This must change and that is why we are giving you these tools and others that we will soon be able to share with you.
Here and now it is essential and necessary that you fulfill the commitment you accepted one day as beings of light, with your own existence.
We always travel with you, accompanying you in a process that it is also ours.
Keep being human beings of light and walk firmly towards the goal: a world in peace and harmony.
With LOVE, Antarel."
(Message received by Diego Cintas)
Saturday evening and night were coming closer, so we went to the meeting point. Once there, we began our exercises in the esplanade we have been using for our gatherings at Monte Perdido. There, we prepared for the reception of the "new" Minius, as indicated by the Star Beings.
A white layer of snow covered everything at our feet and the stars shone above us.
We began to sing mantras to raise our vibration and, after a few minutes, some of the group componentes could see some quite intense sparkles in the sky.
After the mantras, the Brothers and Sisters of the Stars advised us how to position ourselves for the reception of the Minius. And so we did. In a few minutes, they left this energy in each of those present there; after feeling it, it integrated in our bodies.
In all the time we spent there, we were accompanied by the presence of the Intraterrestrial Masters and also by the Star Beings. After the work, we went off to rest.
When we reached the camping site, the clouds started to cover the sky, and it snowed again almost the whole night. The only time the sky was clear was the time in which we received the Minius. Casuality?
The following morning everything was again full of snow. We talked about the happenings of last night and how again there were similarities in the experiences different people narrated.
The weekend at Monte Perdido ended with the usual exercise of planetary irradiation for peace in the world, for and by humanity.
Again we cannot avoid feeling proud of the dedication of our colleagues, for their commitment and for the path that each of us, day by day, keeps walking for his or her own self-knowledge.
Our following gathering will take place in Bugarach (France) with the Chintamani Stone.
We keep in contact.
A hug with love.




SHARE THE CONTENT OF THIS PAGE
Tweet